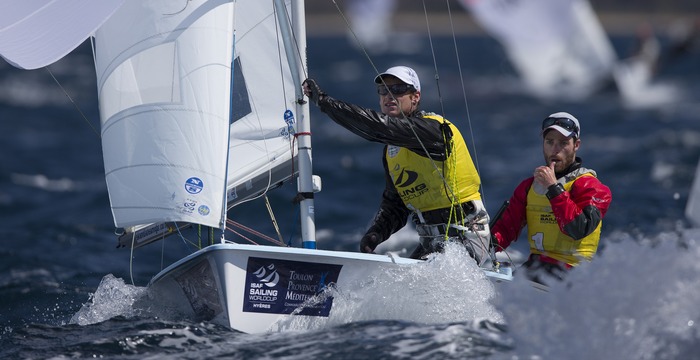 Luke Patience, the 2012 Olympic silver medallist, and double silver medallist Glanfield picked up their first gold medal together since joining forces at the beginning of this season – their third medal from four events from 2013. On his first gold medal of the year, Patience said: "I have had quite a fair few strings of silver medals in the last wee while so it's nice to break that cycle and win an event – we're really happy!
"Joe and I have done four events together now and have won three medals out of four so I think we are just really pleased with how our sailing is going at the minute and where we are at.
"Obviously Joe has been out of the boat for four years so what we will have at the Worlds won't be our finished product as it's still only the first year of the cycle. We are doing all we can to be the best we can be in time for the Worlds and I think that being able to sail at the front of the fleet like we have done this week and this year so far fills us with confidence that we are able to go and do that again in La Rochelle," the 26-year-old Helensburgh helmsman explained.
"We are happy were we are, happy with the progress we are making and the work that we have got to do between now and the Worlds to give ourselves the best chance. It is early days and just to be even able to challenge for medals is such a cool thing in such a short time together. We will be doing everything we can so that we peak like we did this week at the Worlds."
Patience and his Exmouth-based crew Glanfield didn't have the dream start to the regatta that they would have liked, picking up a black flag disqualification and a 23rd on day one, however with Patience admitting the duo were still confident of winning the regatta.
"We always are confident. The thing is with this sport is that ultimately it is very difficult to reach perfection in all that you do and not even the very best reach it. On a day like that [Saturday] when it goes badly, we know that from there onwards other people will make mistakes and we just need to keep plugging away and to not let it affect us too much and for us to do the right things at the right time. These regattas are marathons and medals aren't won on day one which we proved!"
For the full list of results from the 2013 Kieler Woche Regatta visit the event website.