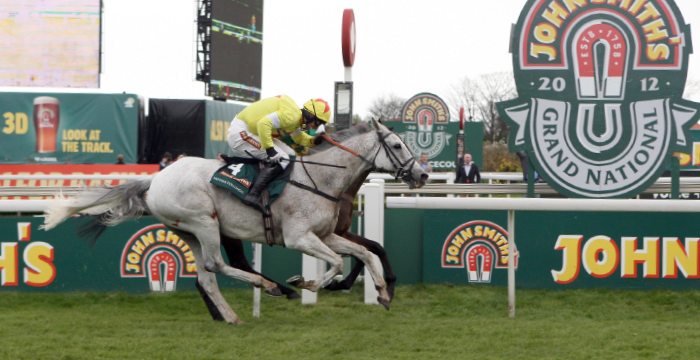 The company, part of Halewood International, has signed a three-year deal to sponsor the race from 2014 to 2016. The late John Halewood, whose wife Judy runs the business, owned Amberleigh House, the 2004 Grand National winner, who was trained by Aintree legend Ginger McCain. The news was described as "fantastic, a very good deal," by John Baker, who heads up the North West for Jockey Club Racecourses. The course had been looking for a new sponsor for the best part of 10 months.
Finding one had been something of a concern after John Smith's decided not to renew their deal when it ran out after this year's race. Although winning the race in 2010 propelled AP McCoy to BBC Sports Personality Of The Year and the event had never been better received, memories, it seemed, were short. Two equine fatalities in 2011 and 2012 had made some wonder if anyone other than a bookmaker would step into the breach.
However, after significant changes to the course this year — in particular a new kinder plastic 'birch' core to the famous fences — only two horses actually fell in the race.
It was won by the Sue and Harvey Smith trained Auroras Encore and received widespread publicity the following day when his jockey Ryan Mania was injured in a fall at Hexham on his very next ride and was airlifted to hospital.
Though kept in hospital for a few nights he was able to ride the horse in the Scottish National a fortnight later.
In April, Aintree appointed PHAR Partnerships to help it find a brand which was right for a race steeped in such history. Its cause was helped by the fact that it was only the second time in 30 years that the sponsorship had come up for grabs and that, contrary to expectation, nine million people tuned in to watch the race, which was shown for the first time on Channel 4.
Aintree will be delighted that a local company such as Crabbie's, which is not new to race sponsorship and is heavily involved at Perth among other courses, has stepped forward.
It will be title sponsor for the meeting and will sponsor all three races over the big fences — the National, Foxhunters and Topham — though it is not thought to be sponsoring races over the Mildmay course.